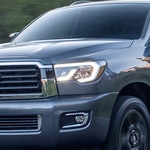 The Toyota Sequoia is a great choice for people who have families. This vehicle has the ability to seat up to eight people. There are also a lot of technology features that will keep everyone safe while they drive. The vehicle has the Smart Key System with push start button.
It will be easy for you to start your car. If you have a key in your pocket or purse and are close to the car, then you will be able to unlock your car. You do not even have to take the key out. All you have to do is touch the handle of the car. You can also push to start the car.
The vehicle also has Apple CarPlay. It is a multimedia system that is designed to work along with your iPhone. You can contact the dealership if you would like to test drive the Toyota Sequoia.