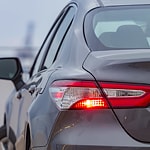 You may worry that there are too many Toyota Camrys in San Jose when you discuss this vehicle with us at Capitol Toyota. In 2021, however, the sedan is more customizable than it has ever been before to aid in adding a certain character. There are even stylization options available to you concerning the exterior such as found below.
To start, every Toyota Camry does have several color options to choose from that accent the LED lighting in the front and back well. The color options also go well with the standard chrome grille, though you can add mesh inserts to the grille area if you do desire.
Chrome is not only found in the grille of the Camry, as you can even add on exhaust pipes in the back that are dual in their design. Finally, there are several trims to choose from if you want to break away from the standard such as the sporty XSE and the blacked-out version of the trim.