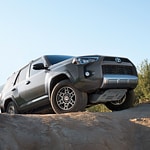 The Toyota 4Runner stands out from the competition. It has everything that our Capitol Toyota team looks for in a family vehicle. It also has impressive off-road technologies that enhance its already impressive array of capability features.
Automatic Sway Bar Decoupling
When you encounter rugged, uneven terrain while driving the Toyota 4Runner, just activate the Kinetic Dynamic Suspension System. When activated, the KDSS automatically decouples the SUV's sway bars for enhanced wheel articulation. The enhanced articulation ensures that more wheels stay in contact with the ground, offering optimal traction and stability on off-road terrain.
Selectable Drive Modes
Called Multi-Terrain Select, this system of selectable drive modes gives you a driving advantage in even the most challenging driving situations. When you select a drive mode, the Toyota 4Runner tweaks its own engine throttle and traction control to maximize grip and responsiveness. Each mode elicits slightly different behavior from the Toyota 4Runner, letting you focus on off-road steering while the SUV does all of the rest.