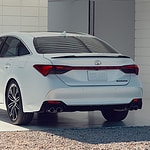 Here at Capitol Toyota, we offer an extensive lineup of new Toyota vehicles. People love their Toyota because these cars are known to last for years. They're also high-ranking when it comes to innovation in engineering and design. The performance features of the Toyota Avalon are a perfect example. See for yourself.
The new all-wheel drive capability of the Avalon is practically unmatched. It sends nearly 50% of the car's torque to the rear wheels for better grip. This improved traction is sure to increase your confidence no matter what roads you travel. Its powerful 3.5L V6 engine won't let you down when you need some added oomph.
Driving enthusiasts will appreciate the TRD (Toyota Racing Development) trim that allows everyday drivers to experience the kinds of handling and performance that comes from Toyota's track-tuning expertise. Your daily commute will no longer be boring. Better aerodynamics can also be enjoyed from the new Avalon's engineering.