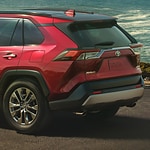 The Toyota RAV4 is one of the most popular SUVs in the automotive industry, with a reputation for being extremely reliable and comfortable. In terms of technology features, the RAV4 is packed full of advanced capabilities that make it an excellent choice for anyone looking for a new SUV.
Some of the key technology features of the Toyota RAV4 include its intuitive infotainment system and its safety features, which are designed to help keep you and your passengers safe. Whether traveling on city streets or backroads, you can rely on the RAV4 to keep you connected and protected.
In addition to its standard tech features, there are also several available upgrades that allow you to customize your RAV4 to suit your specific needs. For example, you can opt for a larger display screen for the infotainment system or choose to add navigation to help you get around town.