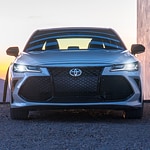 Being a flagship sedan, the Toyota Avalon has many standout exterior features to its credit. Frankly, our Capitol Toyota team loves all of the features. In the interest of time, we selected two for your info.
Superior Aerodynamics: Active Grille Shutter
The Toyota Avalon's Active Grille Shutter opens and closes to varying degrees as the Toyota Avalon gains in speed. The shutter opens as needed, allowing air to flow freely through the grille. This reduces drag, resulting in improved aerodynamics, efficiency, faster acceleration and optimal towing.
Aerodynamic Front Tangential
Read More