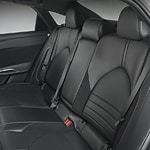 We think of sedans as reliable workaday transportation, some of them luxurious, others straightforward. The Toyota Avalon combines the best of multiple categories, scoring major points for styling, safety, tech and performance features.

Suspension That Adapts

Not all roads in San Jose are created equal. That's why our Capitol Toyota team loves the Toyota Avalon's Adaptive Variable Suspension. AVS adjusts dampers in an instant to subtle changes in road quality and landscape. Available drive modes, such as Sport Mode, tap into the highest range of damping.

Read More